CRISPR InDel Profiling Platform (CIPP)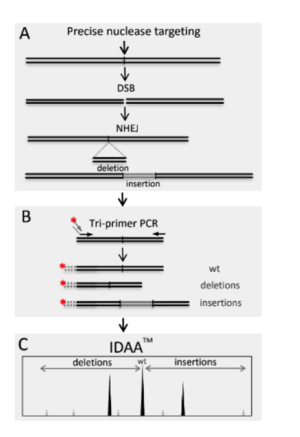 Detect any InDel using the powerful CRISPR InDel Profiling Platform (CIPP™) powered by the IDAA method.
Simple Procedure:
Do your gene targeting in your cell line of interest using CRISPR (or ZFN, TALEN).
Ship cell pellets, genomic DNA (gDNA) or PCR samples to our facility in Denmark (DK). We recommend to use our validated CoboXtract for efficient gDNA extraction from any cell type and our validated PCR Master Mix, PROFILase, for PCR.
We do InDel profile analysis on the received gDNA/PCR samples and send FSA files for easy InDel profile analysis in ProfileIt (free license available to all users).
The standard InDel Profile Report will include overview stats, total InDels %, total out-of-frame InDels %, Top5 InDels %, profile image - see example here)
When shipping gDNA/PCR samples, you will have your results within 5-10 working days.
Details:
Quantification of insertions/deletions (InDels) in pools and clones (example here).
Identification of down to single base InDels.
Detection of down to 0.1% InDel events.
Detection of large deletions up to 1000bs.
Detection small insertions up to 150bs.
Fast InDel profiling in high-throughput format in pools and clones.
96 samples can be analysed in 2 hours.
Easy detection of bi-allelic targeting events in single cell clones.
Easy analysis of profiles using the InDel analysis software: ProfileIt.
Work with any nuclease system (Meganucleases, CRISPR, ZFN, TALEN...).
Applications based on customer projects:
gRNA validation.
Selection of pools or/and clones with out-of-frame InDels.
Tag confirmation (up to 150bs).
Cas9 kinetics.
Cas9 delivery methods.
NHEJ inhibitor screening/validation.
HDR inhibitor screening/validation.
Drug-resistance allele generation (in-frame insertions/deletions)
QC of CRISPR modified cells
Off-target analysis
...
PCR Design-Validation Service is also available. Please request more information here.
Why did you choose to use the InDel Profiling Service (IDAA) from COBO Technologies?
"Highly quantitative, minimal amount of material required, detailed profiling of In/dels, easy to interpret the results, highly accessible and excellent customer service, and reasonable prices" VP, Research - NERx BioSciences, US.
Request Quote/More Information
CIPP™, ProfileIt™ and IDAA™ are trademarks of COBO Technologies™. EU/US Patent pending on IDAA™ Method.
CIPP - gRNA Validation (example)
gRNA validation project including 3 different gRNAs targeting hFUT8 gene. InDel profiles were identified and quantified using CIPP and the InDel profiling software ProfileIt 1.0.