PROFILase - PCR Master Mix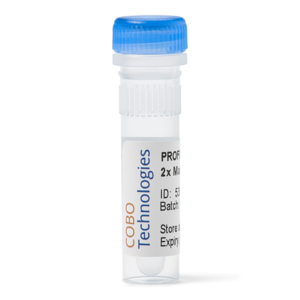 PROFILase™ Master Mix is an all-in-one 2x master mix containing Hot Start DNA polymerase, ammonium buffer, dNTPs, DMSO and magnesium chloride. Each reaction requires 12.5 µl of the 2x Master Mix. Simply add primers, template and water to a total reaction volume of 25 µl to successfully carry out PCR.
Details:
Mastermix validated for INDEL analysis applications using IDAA method.
Fragment Analysis Grade.
Convenient reaction set up at room temperature.
Significantly reduced set up time.
Increased reproducibility.
Increased specificity, sensitivity and product yield.
Designed to diminish the formation of non-specific product.
Detection of low copy number targets.
Diminished risk of contamination.
Optimised to work with gDNA extracted using the CoboXtract Quick DNA Extraction Solution.
PROFILase Hot Start DNA Polymerase is a modified form of Taq DNA polymerase, which is activated by heat treatment. A chemical moiety is attached to the enzyme at the active site, which renders the enzyme inactive at room temperature. Thus, during setup and the first ramp of thermal cycling, the enzyme is not active and misprimed primers are not extended. The result is higher specificity, increased sensitivity and greater yields when compared to standard DNA polymerases.
Sizes available: 100rxn (C30101), 500rxn( C30102), 2500rxn (C30103) and 5000rxn (C30104).
Request Quote/More Information
PROFILase™ is a trademark of Cobo Technologies.