ProfileIt - InDel Analysis Software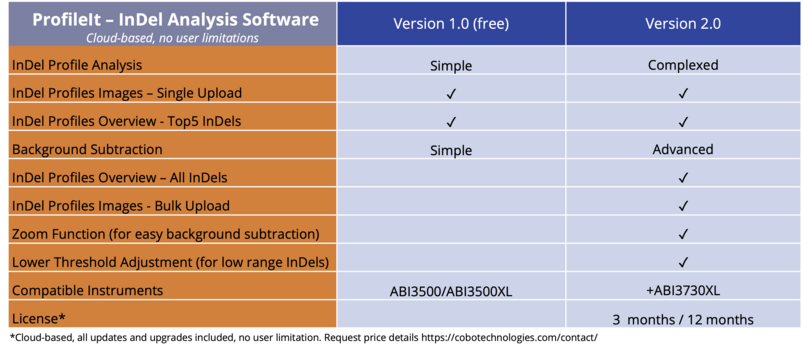 ProfileIt™ is the first CRISPR-Cas9 InDel Analysis Software that will give you what you need in just one-click.
Developed to analyse samples from the IDAA method.
Details:
Easy One-Click InDel profiling of your sample.
Total % of InDels in your sample.
Total % of out-of frame InDels in your sample.
One-Click download (excel) statistics of % InDels of all samples analysed.
One-Click download (PNG) of individual or full group INDEL profile images (publication quality-see example below).
Support high throughput sample analysis (version 2.0).
Zoom function of relevant region.
Subtract easy background.
Define upper and lower threshold.
Individual peak analysis of all peaks over threshold.
Work with ABI3500/ABI3500XL/ABI3730XL fsa files.
Applications where ProfileIt™ are used today:
gRNA validation
InDel profiling of pools and clones
NHEJ inhibitor validation
Cas9 kinetics
Large deletions
Tag confirmation (up to 150bs)
Optimisation of delivery methods
Repair inhibitor screening and validation
ProfileIt™ is part of the CRISPR InDel Profiling Platform and is embedded into the innovative VIKING Platform. If you are interested to hear more about license opportunities for ProfileIt 2.0, please contact us here.
ProfileIt™ is a trademark of COBO Technologies.