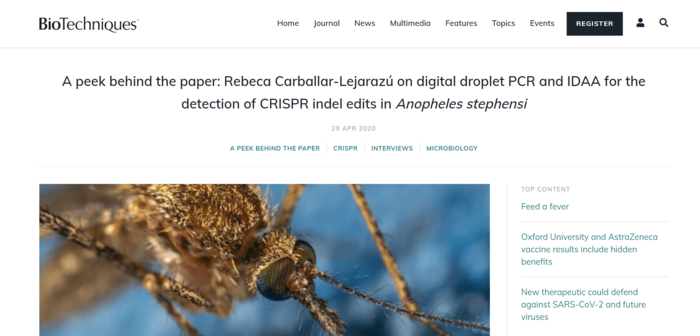 Digital droplet PCR and IDAA for the detection of CRISPR InDel edits in Anopheles stephensi, by Rebeca Carballar-Lejarazú
29-04-2020
"Mosquito-borne diseases represent a major problem in human health; unfortunately the existing vector control strategies are insufficient to control those diseases. New genetic technologies, such as CRISPR/Cas9 systems, have transformed the field of genome modification and are considered a promising tool for combating malaria and other mosquito-borne diseases" explains Carballar-Lejarazú. "We report the use of two novel techniques (digital droplet PCR (ddPCR) and indel detection by amplicon analysis (IDAA)) that can be effectively used to detect resistance alleles in large populations of mosquitoes over many generations."
Read the full article here.
More info about the CRISPR InDel Profiling Platform (CIPP), powered by IDAA, you will find here.
Tags