CRISPR Chip

CRISPR QC pioneers streamlined and automated CRISPR QC tools to accelerate research while improving accuracy and performance. Powered by Cardea and built upon automated high throughput liquid handling systems, the technology is optics-free and entirely electronic to minimize the risk of human errors and biology-distorting sample preparation. With capabilities stretching from optimized CRISPR designs and identifying optimal environment conditions to determining binding interactions and running quantitative analysis of amplicons and whole genomic DNA, the services save researchers both time and resources.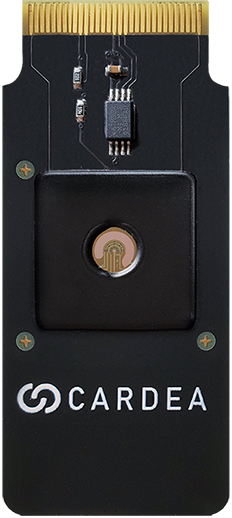 The CRISPR QC tools leverages CRISPR-Chip, a chipset that combines CRISPR-Cas molecules with graphene-based Biology-gated Transistors (Cardean Transistors™). This enables rapid and highly sensitive readings of biological interactions as they happen and allows the researcher to interact with their CRISPR optimization experiment.
Live-streams insight to biological binding interactions as they happen in almost real time
Automated and electronic system to minimize the risk of human variation and error
Optimize gRNA, Cas, and the editing environment of your different use cases
Receive fast insight to how well your CRISPR setup and experiment performed via user-friendly software
Want to learn more about CRISPR-Chip?
Nature Biomedical Engineering, the CRISPR-Chip paper was the most read paper published in 2019.
CRISPR Medicine News did interview earlier 2020, with the inventor of the CRISPR-Chip, Dr. Kiana Aran, Assistant Professor at KGI and Co-founder & CSO of Cardea.

Services Available: